Our Green Story
Why I Built a Beautiful Home in 1987 and Buried It!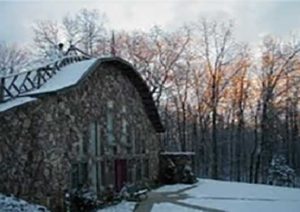 Why did I build a perfectly good house in 1987 and buried it? First, I want to pass down my house to my children and grandchildren. Being out of the elements with no outside maintenance it could last 600 years. Secondly, by doing so, I'm currently saving $300 per month on utilities! A house this size built above ground would cost approximately $300 per month on heating and cooling. My underground home is under the frost line, and in Michigan this layer is four feet deep. Within that layer it stays 54° year-round on the outside of my home. Since my home faces the south. The glass windows in front of the house create what's called passive solar. My outside walls stay about 70° year-round and provide 90% of my heating and cooling. I don't have a furnace or air conditioning either.
Years ago, utility costs were much less. If you take the average expenses over the 36 years I've lived there. 36 years times 270 per month is a savings of $116,000.00! Right now, I have solar panels. My expenses have decreased drastically with a cost of about $30 dollars a month! Lastly, I don't have a furnace, air conditioning unit, roofs, or painting that requires repairs and replacement.
I can't bury your home, but because of our techniques and equipment. By just update the insulation in your attic. Our average customer saves close to 40% off their utility bills. This is the only home-improvement that pays for itself! Please let our family help yours with a free estimate, and or energy analysis. No obligation to buy anything. It's free so give me a call!
248-343-2866
The BlownInsulationMI.com Family
Here at BlownInsulationMI.com we are a family run and operated business. As the founder and owner I, Ron Stead, personally visit homes to provide FREE in home consultations with my son Stoney and grandson Ian. Altogether not only do we provide the best affordable services around, we also add a personal, warm, family oriented touch to every job that we do.
Let's see what my family can do for yours!
Get Your FREE Estimate Today.
Contact Ron Stead
248-343-2866