Our Green Story
Why I Built a Beautiful Home in 1987 and Buried It!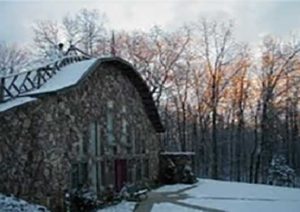 I built a perfectly good house in 1987 and buried it because I knew about the pending energy crisis. My home is all about saving energy. I'm not a "doomsday prepper". My home would be just as dangerous as yours in a war or under martial law because it has all glass front. However my Domestead has saved $125,000.00 on energy since 1987.  With a world dependent on fossil fuels (you can't grow oil) a world gripped by terrorism, and government intervention in world supplies, it's a no brainer that if you could reduce your use of fossil fuels, it would help save the planet, energy, taxes and money. In 2014 President Obama signed into law an executive order calling for cap and trade in this country. This order taxes all fossil fuels at $200 billion per year and redistributes the money to green companies like wind and solar. In turn the power companies have to pass those new taxes on to us.  Recently Consumer's Power and D.T.E power companies in Michigan announced energy prices could rise up to 40% in the not too distant future. Nothing is more important than stopping the leaking. 50% to 80% of your heat goes right up to the ceiling because hot air rises. That's why I super-insulated my home by burying it under the frost line, underground.
So what should you do?
Call me for a free estimate for attic or wall blown in insulation. My son, grandson, daughter and nephews work with me. It's a family business, and that cuts cost. I work out of my underground earth dome. I've never parked my truck in my garage; it's a warehouse for my insulation supplies. I don't advertise by TV, radio, etc. 75% is referred from my customers. When you save people more than they expected and the cost is lower than they can get elsewhere, people call us. Please do the same.
248-343-2866
The Blown Insulation Family
Here at Blown Insulation, An Ecology LLC we are a family run and operated business. As the founder and owner I, Ron Stead, personally visit homes to provide FREE in home consultations with my son Stony and grandson Ian. Altogether not only do we provide the best affordable services around, we also add a personal, warm, family oriented touch to every job that we do.